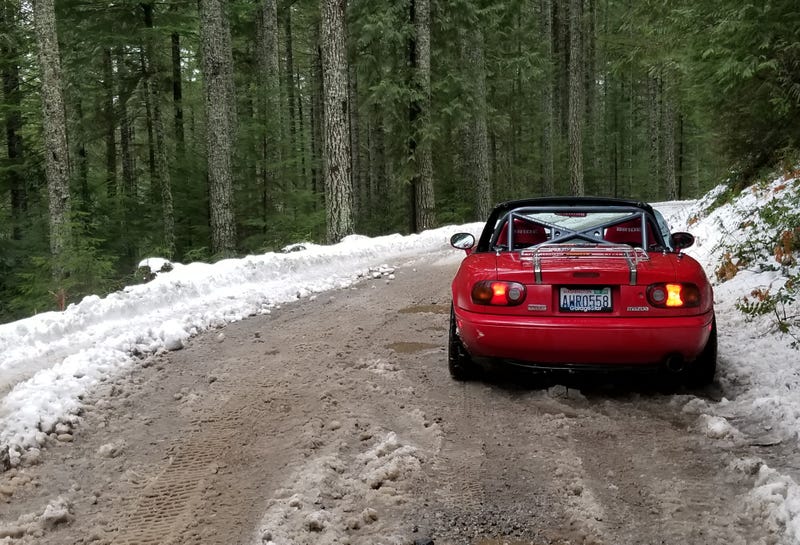 But it's time to rest. Today's adventure left you pretty banged up, and it's clear that we've got some issues to sort out before we hop back on the road, let alone attempt snowy trails... Time to retire for the season. But don't worry. We're a team, and I'll get you back in fighting shape.
A lazy Saturday and weeks of rain had me itching to go out and find some excitement. I was slightly more prepared than last time, with shovel and jack in the back. But I was also going solo. Six up, half a dozen down. Ah well. Bit of rain, bit of wind... Just like yesterday. And the day before. And the day before that. Pretty mild winter weather, and I wanted nothing to do with it. My current mantra, "Give me sun or give me storms!" on repeat in my head, I was determined to find a new place to test the offroadster's metal.
So I hopped on I90 and headed east towards the pass. Half an hour in I started to see exits marked with a "forest service road" stamp. Perfect. First one was a fun little winding road—more mud than snow—but was closed off after about a mile. Could have kept going, but why risk it? This was only the first stop, there were bound to be more trails further down the highway.
On the way back to the freeway, I ended up pulling a Liberty out of a snowbank. Guy seemed pretty embarrassed, which is understandable considering he had gotten his jeep stuck on flat ground, with the front end somehow buried about three feet in snow. About half an hour of digging followed by a pull (rope attached to the rollbar) he made it out, and I continued on my way. I'd earned some serious good karma there.
The 2nd non-paved trail of the day was a muddy slush that was just on the edge of what these tires could handle. Fresh powder is significantly easier to drive in than this crap, at least with my particular setup. Who knew? As the snow on the sides continued to build up, I started to worry about turning around. Eventually the sides of the road had two feet of snow, so turning around wasn't an option. The center was a slushy mess, but it was the only place I had grip. Forward.
Eventually I decided to try my luck whipping a 180° u-turn in the hopes of getting out of here. Offroad gods must have been smiling on me because I managed it flawlessly, despite being on a trail that was just two feet wider than my car. Alright... Not too bad. Let's look for another trail!
The 3rd trail started off pretty easy. Uphill, two good tracks in the snow to follow. But pretty soon it started getting deeper. I was plowing snow with the front end, but my wheels were staying on the muddy tracked section so I kept going. Bad move.
Once I decided it was time to get out of here, it was too late. There was no way in hell I could turn around, and when I attempted backing up?
SCRUNCH.
Tore the back half of my underbody tray, which acted as a scoop, carrying compacted snow into the engine bay all the way up to the top of the radiator. Fuck. Making matters worse—admittedly somewhat flustered—I let up on the clutch while in gear, killing the car immediately.
It wouldn't start up again, either.
Fuck.
Figured if I could push the car about 50 feet back into the more manageable snow level, I could do a reverse push start. Unfortunately... The car was stuck hard. All because of the engine under tray, dug into the snow. First step was removing all the snow from the engine bay. Second step, digging our under the tires. Third, trying to dig the undertray out, in order to either remove it completely or lay it flat against the underside. That... Didn't really work.
In what can only be divine intervention, a dude and his girlfriend come by in a Jeep Liberty. It's even the same color as the one I pulled out earlier. They try helping me get unstuck, but after getting nowhere fast, I asked for a jump start. Figured I MIGHT be able to just break the undertray off by reversing down the hill. And... It worked! Made it down to flat section.... Where I got stuck again. This time due to loss off traction. The snow wasn't super deep, and I wasn't high-centered, these tires just could not grip in the slushy mess. My newfound Jeep buddies pulled me using luggage tiedowns (rated to 350 pounds), and with some careful clutch work I managed to get out of the slog without the tiedowns snapping. With heartfelt thanks, I followed them out towards the freeway and headed home.
But for whatever reason, now whenever I turn my car off, it won't turn back on. That's new. If I absolutely have to I can probably get away with push starting for awhile, but that's not ideal. Hopefully it's just a bad battery. It hasn't been replaced since I bought the car. The undertray is absolutely ruined, and will need to be replaced. Highway speeds are noticeably squirmy without the airflow smoothing that the undertray provided, plus I obviously need to keep shit from entering through the bottom. The radiator core is somewhat bent from all the snow that pushed against it, and looking pretty beat up overall. My brass oil drain valve seems to be in good shape still. I'll tear the remnants of the tray off tomorrow to inspect for further damage... Oh and suspension components could really use a refresh after all this. I don't know if it's a wheel bearing, tie rod or what, but at highway speeds I'm now getting some very heavy vibrations.
Well, that was my day. Not the best, not the worst. I'm already daydreaming about next year's winter build. I'm pretty deadset on nokian hakkapeliittas, in a taller, narrower size than the generals Arctics I have now. Maybe even try out some All Terrain tires. I'm not sure which would be better given my driving preferences. As great as the budget Artic altimax's have been in fresh snow and ice, they performed pretty poorly in the mud and slush today. There's gotta be something that can handle both. The 3" lift kit will be in, and some kind of underbody protection, whether it's just a skid plate in the front, or full under protection bumper to bumper. And of course, more recovery gear!
Lots of people stopped to compliment the Mazda before it got stuck. It always seems to bring out a smile from all the guys four-wheelin' lifted diesel trucks and old built-up Cherokee's. The families in Subaru's and Audi's seem equally enthusiastic about the unexpected bright red roadster cruising along in the snow.
For now though, it's time to tackle some maintenance projects, both major and minor. The winter build is done, and I'm looking forward to turning this back into the razor-sharp track weapon it was previously!
Here are the winter adventures if you missed 'em!