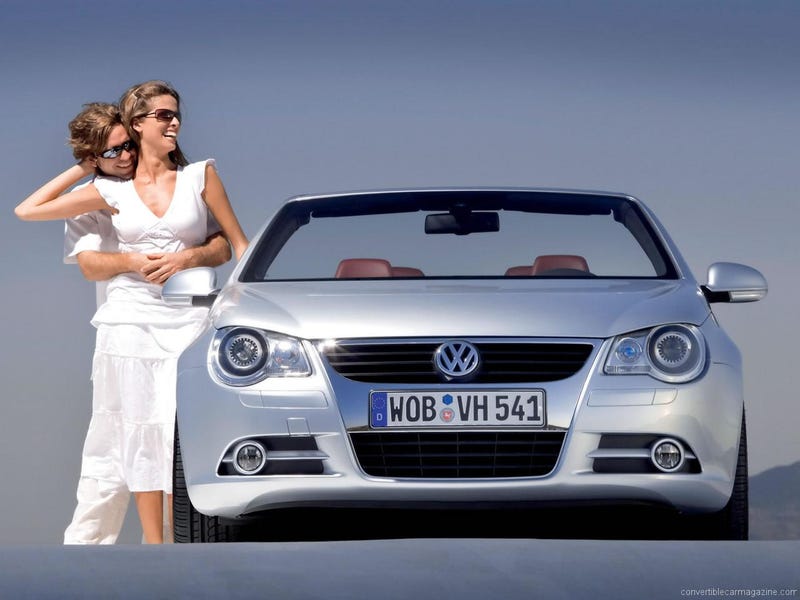 But things are about to change.
I know you think the EOS is the ultimate hairdresser car, but you'd be wrong. In reality, the EOS is the perfect fusion between a hot hatch and a roadster. It's the love child of a Miata and a Cooper S.
Under the bonnet is the same award-winning engine as the marvelous Golf GTI, which is infinitely better than the Mini or any Miata engine, except the early 1.8. The powerplant can be mated to a 6 speed manual with 3 pedals perfectly placed for spirited heel and toe action and aggressive rev matching, or to a F1 inspired double clutch 6 speed automated gearbox for optimal speed around the race track.
The EOS have all the grit of the mighty GTI with the topless insouciance of the Miata.
Another nice feature about the EOS is the retractable hard top. Inspired by the Toronto SkyDome. With the top down, the EOS allow the driver and up to 3 passengers to enjoy the sun while cruising around carrying some Golf bags in the trunk. Putting the top back on will provide shelter and restore full structural rigidity. This comes in handy during winter or on the race track.
Inside, it's like a poor man's Bentley GTC. Leather and tasty aluminum and wood inserts, large screen, plenty of commodities and a nice meaty leather-wrapped steering wheel. Interesting fact, the EOS and the GTC are also sharing the same gear lever.
The EOS has now been phased out by VAG, and that's sad. What's less sad is that you can get a used one for cheap.
Now that you want an EOS, it's time to hit the classified and get one !