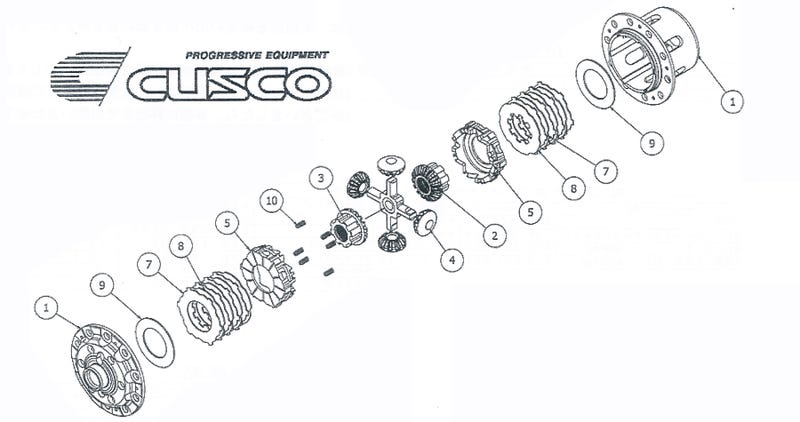 We've made our selection, and it is a doozy. While there are numerous reasons for our choice, there is no getting away from the expense. We might as well cut to the chase: our chosen differential for Project Hoondy, finished and installed, carried a price tag of $2500. We can already hear your reactions:
"Twenty five hundred what now? Dollars? American? Are you serious!?"
Yes ladies and gentleman, we've spent a simply obscene amount of money on an after-market limited slip differential.
For a Hyundai.
Not only that, but we are so pleased with the results that we would encourage anyone with the means to sacrifice their wallets at the altar of Opposite Lock. Over our next series of articles we will attempt to explain why.
As we covered last week, the field of LSD options for Project Hoondy was full of compromises. No single option lept out at us as being the obvious choice. We decided to seek out the one potential aspect of the diff build that we felt most drawn to: the ability to achieve %100 lock.
Hanging on to this goal meant we were stuck with Salisbury differentials. There are several available for the Genesis Coupe and, luckily for us, one of the most advanced clutch-based diffs on the market happens to be one of them.

The Cusco RS is a masterpiece of a differential. It is finely engineered with all the most advanced features available on a passive Salisbury diff. These include selectable ramp angles and a monster clutch pack that contains an absurd twenty disks. It is highly adjustable with a wide range of settings to suit different cars and driving styles.

Best of all, the Cusco RS uniquely features coil springs, rather than cone springs, to provide preload to the clutch pack. Coil springs are more progressive than cone springs and are able to maintain tension over far longer distances. This means, as the clutch pack wears and becomes thinner, the coil springs continue to deliver the correct amount of preload; perfect for a street car where you want the longest rebuild intervals possible.
The advantages of the Cusco RS were too great to ignore, which was a problem, because its price tag was also too great to ignore. At an original MSRP of $1950 the Genesis Coupe edition of the Cusco RS was a bitter pill to swallow, even for die-hard driving enthusiasts such as ourselves.
Thankfully, the market for crazy-expensive LSDs that fit a Hyundai is pretty soft, and so our diff of choice has fallen steadily in price. It now trades for about $1700 at online retailers. We lucked out back in December of last year when GC Tuner was running their %10 off everything sale. This priced a Cusco RS down to a "mere" $1530 shipped. We snapped it up.
Sadly, no Salisbury type differential, not even the amazing Cusco RS, is truly appropriate for daily-driven street car duty. All clutch-type diffs have clutch disks and those disks make at least some chatter at lower speeds and/or throttle positions. Navigating a parking lot in a car with a tightly sprung Salisbury diff is a recipe for odd sensations and funny noises. Our new Cusco RS could not be seamlessly integrated into our daily-driven Genesis Coupe without modification.
But how? The problem with Salisbury diffs is all the friction they make, but they need that friction in order to function. The only way to fix that problem would be to cheat physics!
What if we could cheat physics though? What if we could simply reduce the coefficient of friction on our steel components to a point where they didn't create annoying NVH? It turns out that, through the science of metal surface improvement, we can gain favorable enough characteristics to make our Salisbury diff work on a street car.
While metal surface improvement is an expansive science with several commercial players, there's only one process we were interested in for this project. WPC Treatment is a proprietary Japanese metal improvement process. It somewhat resembles shot-peening, but its unique media means the process is dimensionally stable.
Metal parts are bombarded with WPC media at extremely high velocities. The media compresses the metal surface, work-hardening it on a microscopic scale. This compression is so fine that the surface of even the softest metals are deformed by a maximum of 0.00008 inches. That's eight one hundred thousandths of an inch. We're talking about a dimensional change so small that, for most applications, it might as well not exist at all.
If you were shrunk down until a penny in your pocket was 0.00008 inches wide, then the average human hair would look like a three foot diameter tree trunk to you.
This means that WPC can be performed on finely machined surfaces such as piston rings and crank journals without significantly altering the dimensions of the parts. The WPC media also contains metallic substances such as zinc or molybdenum disulfide which add long-lasting solid lubrication to the treated surface.
WPC treated parts are much smoother and slicker than untreated parts with vastly superior fatigue strength to boot. The WPC process creates a hard, tough 'skin' on the component much like shot-peening does. This makes it phenomenally useful on moving, wearing metal parts.
Piston skirts and rings, crank and rod bearings, cam lobes and followers; any metal part that slides against another part can benefit. Treating drivetrain components outside of the engine can have an even bigger impact. For instance, WPC-treated synchros will vastly improve the speed and smoothness of shifts in manual transmissions.

WPC is absolutely perfect for Salisbury clutch disks. These parts actually benefit more from WPC than just about any other automotive component. Several motorsport outfits routinely employ the services of WPC for this reason, among many others.
WPC treated clutch disks run far smoother, cooler, and quieter than untreated disks while delivering more than twice as much service life to boot. Treated disks produce no chatter and their slicker engagement makes for better power delivery. The car will transition from on-power to off-power more gracefully as the disks go from maximum to minimum engagement with little fuss.
What we're trying to say here is that WPC treatment is the bomb. It can be of huge assistance in the furthering of many go-faster goals. Happily, WPC treatment is quite economical, especially when you consider the money saved from replacing wear components less frequently. The good folks at WPC will happily treat differential clutch disks for just $8 a pop.

This sounded very cheap to us, though the Cusco RS's vast collection of twenty friction disks does make for a bill of $160. Still, we can say with absolute confidence that it is money well spent.
What about the rest of the diff though? There are a lot of moving parts in the Cusco RS and they're all generating friction one way or another. Having put our hands on all the parts that make up the diff, we just couldn't bring ourselves to send only some of them off to WPC.
We could feel and see every single sliding surface that would be giving off more unwanted heat. We desired the absolute smoothest Salisbury diff possible with a minimum amount of added heat over the OEM setup. Any gains to be had in reliability and service life were of great interest to us. This made us want to see what would happen if we went bananas and applied WPC treatment to every single component in the diff.

So we did.
If you send in the exact dimensions of the parts you want treated then WPC will give you an accurate cost estimate for their services. We couldn't be bothered to precisely measure all of our parts, so we just crammed them in a box and shipped them to California.
This was way easier than getting an estimate first. We simply sent off the parts and a few days later we got an invoice in our email:
Ouch. Most of the prices were very reasonable given the size of the parts, but the case and the springs seemed a little extra expensive to us. We contacted the sales rep who sent us the email, Izumi Ogawa. He explained that the case was actually two pieces, and each was fairly large. The springs, on the other hand, needed special tooling to complete. They're so small and fiddly that they must be chucked up in a special jig which means extra prep time. Time is money, so that's that.

We were feeling flush after getting such a great deal on the diff itself, but $510 for metal improvement was just too much for us. We contacted Izumi again and asked him to take the springs and the case off our order. That would put us right around $360. Still a bunch of money, but not unbearable.
Izumi understood our dilemma, but didn't like the idea of sending un-treated parts back to us. He told us he would come up with a solution, and a short time later this revised invoice appeared in our email:
Wait, what!?
Instead of removing the parts we couldn't afford from the order, Izumi had simply discounted our total by the same amount. Unbelievable. We called him up and asked if it was a mistake. He told us that he doesn't get a lot of orders from private individuals, let alone regular Joes tuning a normal street car. He liked that we were fans of WPC and that we would care enough to send in every single component from a Cusco RS. Also, it didn't hurt that the Cusco diff is a high-performance motorsport product from WPC's home country of Japan. We think there might have been a bit of patriotic pride going on.
We were actually conflicted about reporting this event as we don't want folks filling up Izumi's inbox with demands for a discount. That said, we're compelled to share in the interests of full disclosure and also as the incident speaks to WPC's excellent customer service in general. We would have been immensely pleased with the help we received even if we had not gotten a discount at all.
Looking back, we would recommend applying WPC treatment to all 20 friction disks, both spacer rings, both differential ramps and the cross shaft. Getting WPC applied to that list of parts would come out to exactly $240, plus shipping. We feel that's the sweet-spot for bang/buck on this one. The plates are a must and the cross shaft is too cheap not to. The ramp blocks do a lot of work as well, contacting both the clutch pack and the cross shaft. From there importance tapers off. Here's all the parts of a Cusco RS from most to least important in WPC application:
Clutch Disks

Spacer Rings

Ramp Blocks
Cross Shaft
Springs
Case
Planetary Gears

Side Gears

With freshly treated diff components on their way back to us we could hardly contain our excitement. Izumi's killer discount simply added fuel to our enthusiasm and we were dying to get our diff re-assembled and stuffed into our car. Stay tuned for the ins and outs of this fantastic differential. We'll take you on a guided tour of the mighty Cusco RS as we further our goals in the ongoing saga of Project Hoondy!