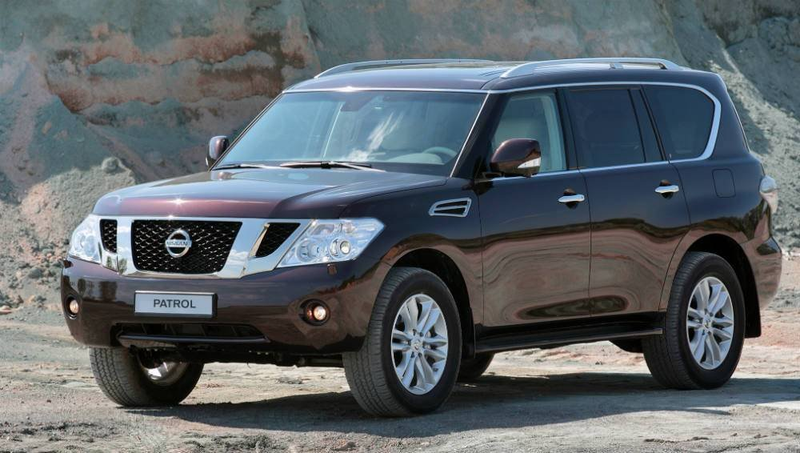 The Nissan Patrol is a large body-on-frame SUV that competes, outside the US, with the Toyota Land Cruiser. Until now, the only way to get a Patrol in the US was to get an Infiniti QX80, which is like a Patrol that's been made to look like a beluga whale. But soon, you'll be able to get a de-belugafied Patrol!

For reference, the Infiniti QX80, and a beluga whale:
The QX80's front end styling is charitably described as unfortunate. Except now, Nissan will be selling the Patrol in the US as the Armada. Witness, the new Armada, that looks much more like a Nissan Patrol, and much less like a beluga whale, than the Infiniti QX80:
The Armada started out as the Pathfinder Armada, and was built on the Titan full-size pickup platform, very much in the same vein as a Ford Expedition, Chevy Tahoe, or Toyota Sequoia. At some point along the way Nissan decided to drop the Pathfinder from the name and sell it as only the Armada. Infiniti sold a version of the Armada called the QX56, which (mostly) didn't look like a beluga whale.

The old, Armada-based QX56 was replaced in 2011 by the new, beluga-fied Patrol QX56, which was renamed QX80 for the 2014 model year.
The Armada, however, kept going along on its own. This is a 2004 Nissan Pathfinder Armada:
This is a 2015 Nissan Armada:

So now, finally, 6 years after Infiniti started selling the Patrol as the QX56, Nissan USA will sell the Patrol as the Armada. I actually prefer the new Armada's looks over the Patrol, even if the Armada's flared wheel arches are totally unnecessary.

'Murricans who want a Nissan Land Cruiser and can't bring themselves to drive a beluga whale, rejoice!