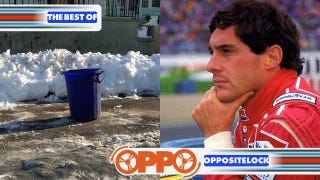 Assembled here are the best Oppositelock posts from last Friday through Sunday. Today we've got a guide to saving your dug out parking spot, a first hand account of Senna's effect in Brazil, a racecar that time forgot and more.
Digging your car out after a major snow storm is never fun. What sucks even more is when someone steals the spot you worked so very hard digging out. Why? Because where are you going to park now? Piled snow takes up half the spots on your block and your '83 Camaro Berlinetta isn't climbing any snowbanks. Well, the people of Paterson, NJ are having none of that. They save their dug out parking spots. So how best to save that coveted snowpocalypse spot? Here's a guide of some popular choices
Many petrolheads and Formula 1 enthusiasts who grew up watching the sport in the late 80s and early 90s claim Ayrton Senna as their childhood hero. Of course, the man was a Legend. I have been enjoying F1 since 1986, when I would wake up every Sunday morning and watch races with my Father. Luckily, dad is still around and healthy, but I know many years from now, when he is no longer with us, those are the memories I will cherish the most.
We all remember Dome as the company that produced the extremely quirky, and odd, Dome Zero concept. Not as a successful Le Mans team. There is a reason for that, but we aren't there yet. Dome struggled to sell the idea of their car to the public, and they had financial worries.So what to do? Dome started the program after executives in the company realized a motorsports pedigree would boost the Zero's appeal. Oh Yes.
If you're like me, you probably don't own an American car but the styling, power, and price always intrigued you. I've been a German auto guy for a very long time having owned an E39M5, C5S6 and a Phaeton but recently I've been looking ever so longingly at the big American bruisers.
Welcome back to the RFD coverage of the 2014 Washington Auto Show. Earlier this week we brought you coverage of the upper level, including GM, FCA, Toyota and Ford. Thankfully the Italians and Japanese did not lure us up there to be flanked by the Germans, but our trip isn't over yet. Today we venture downstairs to the "Import plus Cadillac" section of the show to see what's cooking with BMW, Lexus, Jaguar, Audi, Subaru and a host of others.
For the next couple weeks, I'm gonna put out a preview for every F1 team for the 2014 season… Caterham F1 has been little more than a blip on the radar of F1 since its inception as Lotus Racing in 2010. They have never won, never scored a point and have highest Constructor's Championship finish of 10th in 2010, 2011, and 2012
The summer of 1972 was well known for the Olympic games held in Munich, Germany from August to September; games that were supposed to show a new image of a happy Germany post WWII. Instead it was the site of a hostage standoff and massacre of 11 Israeli Olympians and a few terrorists.


This comes up time and again here on oppo, where somebody posts something like "help me talk soandso out of minivan purgatory," and everyone for the most part agrees that minivans should be avoided like the plague, even though minivans are actually awesome.
The Volvo S60 is a small saloon car which is Volvo's answer to zi' Germans. The S60 rivals the likes of the Mercedes-Benz C Class, BMW 3 Series and the Audi A4. It may not seem like an obvious rival at first, but once you get into the specification of the S60, it really shows that Volvo has tried to capture the attention of your everyday C-Class/A4/3er customer.
I love the look of the Hummer H3. It has that rugged, "Get the hell out of my way, I am better than you look." It is a great vehicle for traveling around in 2 inches of unplowed snow on a Saturday night. In my 15 minutes with the H3 however these were the only two positive traits I found about the Hummer.
Within the past few days there have been a few vehicles (ok trucks in particular) that have made some claims about being a "Raptor Challenger" and being a truck enthusiast I could no longer bite my tongue and felt that I wanted to share this knowledge on why there has yet to be any truck (possibly the exception of the Ram Runner...) that could be considered a competitor to Ford's Raptor.
The Best of the Rest
EStuitos photographed some of the cars of Cuba. Twinturbobmw took photos at the Portland Auto Show. DOMdotCOM shared some photos of his dad's old Camaro. Vermillion-fire was at the 12 Hours of Bathurst. Decay hooned his Jetta in the snow. Bad Kev took his 4Runner into some rare DFW snow. djmanila attended the Baltimore Auto Show. Powaaah shared some photos of his 370Z at an autocross. ZDMW 3D printed the NSX Concept. VicVinegar took some mediocre pictures of some incredible cars [his words - DW].
---
As always, If I've missed something and you would like me to include it, let me know.
Fun Discussions
There were several posts that asked questions and sparked some good discussion between last Friday and Sunday. Take a peek and chime in on some of those listed below:
Just the #tips
Honorable Mentions
These posts have already been shared with Jalopnik directly but deserve to be mentioned again because they were first posted on Oppositelock:
Want to participate on Oppositelock? Check out the general handbook for posting on OppositeLock as well the Oppo tools to help you get started.