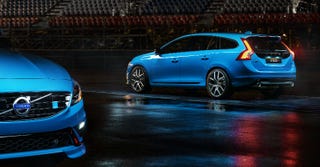 We've all done it: been looking for a car to meet our needs, and bingo, one shows up. It's the perfect car for you. You can almost justify buying it.
Except for one or two things.
It could be the amount of power. It could be the trunk size. It could cost more than the Vatican. It could be anything. So Oppo, I pose a question: what car would almost be a responsible car choice for you, except for the one or two things pushing it into irresponsibility?
For me, it would be the Volvo V60 Polestar. It's a five seater and a wagon, which is good for moving people and things around. It's got all those fancy safety systems, which would be good as a young driver who has an over-concerned mother. It's got all-wheel drive, which is great considering I live in a place where the snow would cripple any other city, but not this one. However, it probably has a smidge too much power, and costs somewhere around $70,000. Almost perfect, but not quite.
(Photo Courtesy of Volvo)