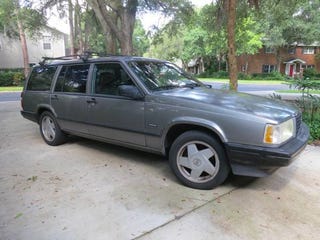 This is the 1990 740 Turbo Wagon that has been my obsession for the past week or so. I've driven it. I've talked to parents about letting me buy it. I got insurance quotes, decided on a custom license plate, etc... but I need some advice here.
My dad is not really in favor of me getting a second car. And as I was talking to him today trying to convince him to let me have it, he brought up a good point.
Now, I'm 16. I bag groceries part time and am also a high school student (just on Summer break now). I DD a leased 2013 Honda Civic which I share with my grandma. I spend $150 a month on the Civic, another $100 for insurance, and all gas and maintenance. I also pay $40 a month for my cell phone, and buy my dinners on the majority of nights I work (so another approx $35 a week on food). I've been saving the leftovers of my earnings into a checking account. Its my personal account and I use it to buy what I want. I don't buy very much, so there's a decent amount of money saved up. I've been wanting to take this money and get a second car. Something cooler and more me.
So, about the Volvo. It drives great. Only 130,000 miles, no accidents, and been down South its whole life (no rust anywhere on it). Interior was all original and looked solid minus the rear seats missing headrests, some small tears in the front seat, and a headliner that is just starting to become slightly saggy. All electric things worked, including all windows and locks. Body had no dents or major scratches. Tires were recently replaced. He installed a new water pump, timing belt, air filter, battery, and radiator. He's had the car for about 4 years and it was his daily driver. He genuinely loved the car and cared for it. he has a huge folder with every maintenance record on the car since new. The issues: the sunroof currently leaks. He has it taped shut. However, the glass still moved perfectly and had no problem opening and closing. I think it either needs new seals or just the drain spouts cleaned out. Also, there is no air conditioning. He had it working for about a week, but then it died on him. Currently the belt for it is no longer on (can't remember why). So, it may be a $50 fix, may be a $500 fix, may be a $2500 fix. I don't know. He is selling because his wife is pregnant and wanted something safer.... he ended up buying a new Town and Country minivan (I too was hurt by this choice). He already has the minivan and registered it using the Volvo's tags, so basically its just a car sitting in his driveway. Talking to him, he'd take $1000, maybe even a bit less now if I tried.
And here's the issue. I can now barely afford the car. Put simply, buying this would nearly wipe me out. But, I am still working and get paid weekly. So I'm still making money, but buying would nearly make me broke.
On one hand, I don't like this idea. I don't like nearly losing my safety cushion of funds that I have. It also needs work. So the money I will be making will be going back into it. I plan on getting a new stereo installed, fixing the AC, eventually getting the headliner done, and way down the road, I want to do an "R" conversion by swapping interior bits from an 850R or V70R and dropping it a little bit. Again, costing me money which I dont have yet.
On the other, the money is doing nothing anyway. Also, I told myself that is what the money is going to be used for. Its also a very rare car, one that I don't ever see show up. The price is right. The color is right. The body style is right. Also, I feel that this car will appreciate soon and if I need to sell, I could nearly make all my money back if not profit off of it.
Its not going to be a DD. It would be going to car and coffee and driven every once in a while when the weather is nice or I need to haul something or feel like driving something cool. It will also be used as a DD for two week stints every three months when grandma is here. Other then that, it'll sit in our yard....
(Kind of my TL;DR) So the simple question here is should I get the car? I can afford it, but it will nearly make me broke. But I still work and make money, so I don't know.
I still want it a lot. I love the idea of this car. I just don't know if I love the idea of owning it. Help me!